Sports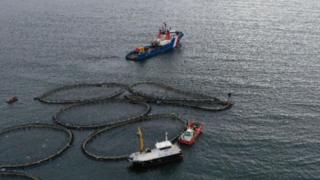 Nearly 50,000 salmon escaped when a fish farm in Argyll broke free from its moorings, it has been revealed.
The North Carradale farm, near Campbeltown, suffered damaged to four of its 10 fish pens at some stage in Storm Ellen.
Owner Mowi stated inspections by divers revealed the breakage of mooring ropes hooked up to the farm's seabed anchors used to be the explanation.
Exact over 30,000 of the farmed salmon also died on tale of the incident.
Mowi stated it has sent the torn ropes to a sorting out facility in Aberdeen for additonal investigation.
A spokeswoman for the Scottish Setting Security Company stated it "shares considerations" relating to the loss of salmon.
She added: "Whilst we're confident that marine pens rep been returned to their authorised situation and there used to be no main air pollution, we're liaising with Mowi and Marine Scotland, who rep responsibility for fish escapes and their reporting."
The North Carradale farm contained 550,700 salmon sooner than the four pens rep been damaged in mistaken weather on 20 August.
Mowi stated a total of 48,834 salmon escaped, 30,616 died and a extra 125,000 rep been harvested.
Environmental campaigners rep raised considerations about the escaped fish breeding with wild Scottish salmon.